P1 decanter centrifuges are ideal for basic industrial waste dewatering. The design combines high performance with low energy consumption. The various models have proven ideal for both small and medium-capacity installations where the focus is on cost-efficiency, reliability and ease of operation.
Cost-saving technology for small and medium-size dewatering duties
Reduced sludge volume which cuts transport and disposal costs
Continuous operation in fully enclosed process
Compact space-saving modular design
Low life-cycle costs and reduced electricity consumption (compared with other technologies)
Low labour cost due to minimal operator intervention
P1 decanter centrifuges can be optimized to suit your specific requirements by varying a number of parameters. The bowl speed can be adjusted to the G-force required for efficient separation. You can fine-tune the conveying speed and the pond depth to get the most efficient balance between liquid clarity and solids dryness.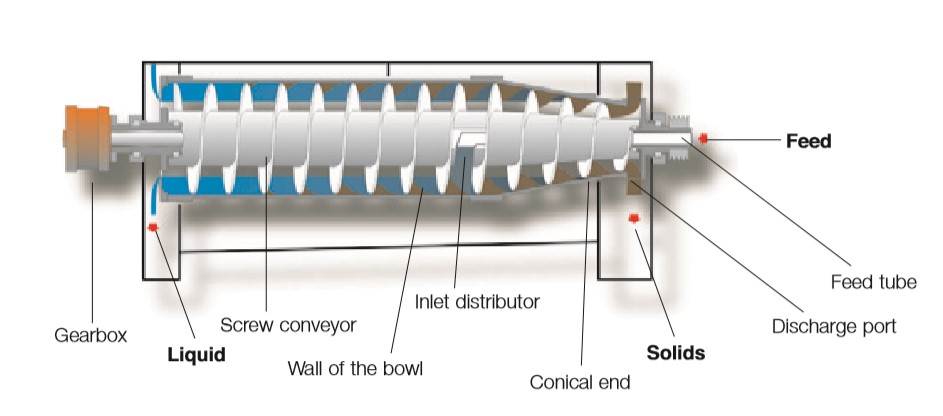 Explore the working principle of an Alfa Laval decanter centrifuge
Learn more
Find out how the Alfa Laval P1 decanter centrifuge can optimize your separation needs in a wide range of applications.
Supporting sustainability goals
The bowl can be equipped with special power plates or tubes that harness the hydraulic energy to reduce the overall power consumption. Some of the discharge velocity from the liquid leaving the unit is captured and re-directed to contribute to bowl rotation. This reduces the velocity of the discharged liquid, which in turn reduces overall power requirements. The unique Alfa Laval direct drive system automatically controls the conveying speed to ensure optimum solids dryness, irrespective of acceptable variations in the feed flow.
Contact us
Learn more about the benefits of the Alfa Laval P1 decanter centrifuge by contacting us directly.