The Alfa Laval range of P2 decanter (solid bowl) centrifuges provides a cost-effective, high-performance solution for solid-liquid separation of erosive, corrosive and high temperature slurries. Highly flexible in design, they can be used in industries such as mineral processing, pulp and paper, coal tar, steel and chemicals as the wetted parts are made of corrosion-resistant materials.
High performance decanter centrifuge
High recovery of product and valuable raw material in continuous operation
High capacity on small footprint
Cost-effective operation – no filter cloth, no vacuum pump
Low life-cycle cost compared with other technologies
Low labour cost due to less operator intervention
Available as 2 or 3-phase designs, our P2 decanter centrifuges can be tailored to specific requirements using options such as enhanced wear and corrosion protection and different elastomers and seals. They can be equipped with extra wear protection for highly corrosive and high temperature feed. They can also be specially sealed and purged. The bowl and conveying speed, pond depth in the bowl and feed rate are adjustable to support optimum performance. We also cater for ATEX Zone 2 as well as Zone 1 with inert gas purging on case-to-case basis.
Прискорення стійких рішень
Уявіть собі світ, який живе за принципами сталого розвитку. Світ, в якому потрібно менше, щоб виробляти більше. Світ, в якому ми ефективно задовольняємо зростаючі потреби в енергії та одночасно зменшуємо викиди вуглецю. Уявіть собі світ, де ми можемо використати силу природних ресурсів, зберігаючи їх. У Альфа Лаваль ми не просто уявляємо цей світ. Ми будуємо його разом із нашими замовниками та партнерами.
Alfa Laval P2 decanter centrifuges are specifically designed to separate sludge or slurries into a solid phase and one or two liquid phases. Separation takes place in a horizontal cylindrical bowl equipped with a scroll conveyor. The product is fed into the bowl through a stationary inlet tube and then smoothly accelerated in a full flow feed zone design. Centrifugal force (up to 3,500 G) deposits the solids on the inner surface of the bowl. The conveyor rotates in the same direction as the bowl, but at a different speed, to move the solids towards the conical end of the bowl. The solids leave the bowl through the solids discharge openings into the casing. Separation takes place throughout the entire length of the cylindrical part of the bowl, and the clarified liquid leaves the bowl by flowing over adjustable plate dams into the casing.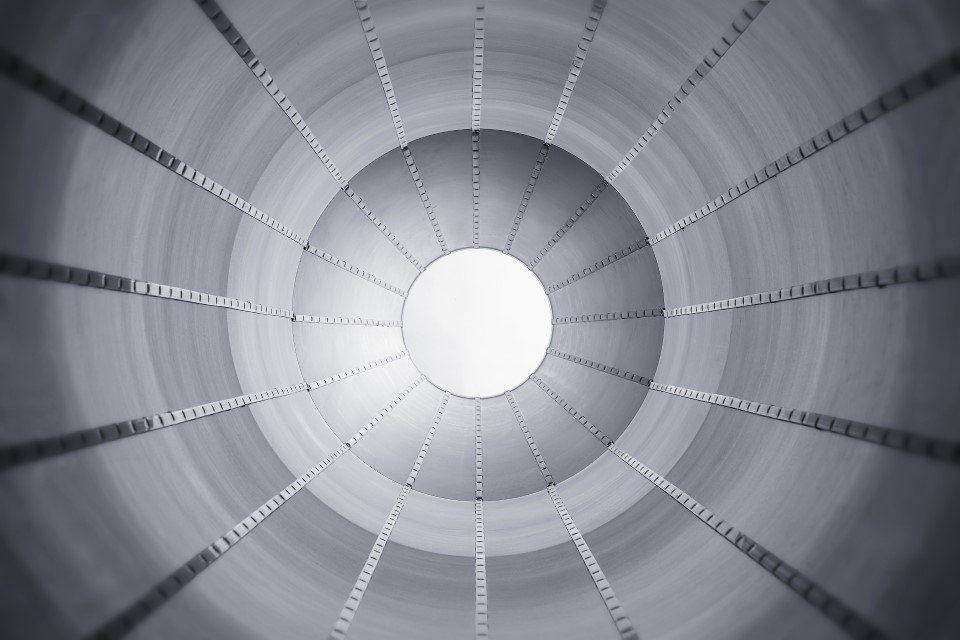 Technology / Innovation
Robustly designed, the rotating assembly is supported on a box beam frame with main bearings at both ends. The bowl is driven at the conical end by an electric motor using a V-belt. Wear protection using suitable material of construction is provided on the wear parts.
The bowl, conveyor, casing, inlet tube, outlets and other parts that come into contact with the process media are made of AISI 316 and Duplex stainless steel. Super Duplex stainless steel can be provided on certain sizes.
The P2 decanter centrifuge comes with an Alfa Laval plus control package as standard, pre-installed and factory-tested to make sure you get the most out of your set-up. It also helps minimize costs for installation, commissioning, operation and maintenance.
Learn more
Read more about how you can benefit from the solid-liquid separation of corrosive, erosive and high temperature slurries with our P2 decanter (solid bowl) centrifuge by downloading the product leaflet.
Supporting sustainability goals
The bowl can be equipped with special power plates or tubes that harness and exploit hydraulic energy to reduce overall power consumption. Some of the discharge velocity from the liquid leaving the unit is captured and re-directed to contribute to bowl rotation. This reduces the velocity of the discharged liquid, which in turn reduces overall power requirements. The unique Alfa Laval direct drive system automatically controls the conveying speed to ensure optimum solids dryness, irrespective of acceptable variations in the feed flow.
An efficient and sustainable option
If you are looking for ways to increase the efficiency and sustainability of your solid-liquid separation step, contact Alfa Laval today to learn more about our proven and cost-efficient P2 decanter (solid bowl) centrifuges.