Щоб вивести на ринок нові ліки або вакцину, необхідно використовувати передові технології. Успіх виробників фармацевтичної продукції залежить від ефективного обладнання в санітарному виконанні, яке забезпечує безперервність технологічних процесів і стійку продуктивність в діапазоні від пілотного проекту до повномасштабного виробництва.
Pure performance in the pharmaceutical industry
Cost-efficient operations
More uptime and better yields along with highest level of hygiene
Safeguard product characteristics and quality with in-batch and batch-to-batch consistency
Made for smooth commissioning, qualification and validation
Compliant with relevant standards
With our equipment and the diversity of our global network of sales and service representatives, we provide sustainable solutions that meet the highest demands. We strive to improve customer competitiveness through better operational efficiency and high quality end-products backed by engineering experience, application knowledge, customized installation and full validation support.
At Alfa Laval, we believe in creating better everyday conditions for the pharmaceutical & biotechnology industry, so that together, we can help even more people towards a healthier and happier life. Watch this video to learn more about how Alfa Laval can contribute to your pharmaceutical and biotechnology processes.
The right heat exchanger for pharma applications
Heating, cooling applications and condensing applications play a critical role in many pharmaceutical processes. The right technology can have a big impact on both patient safety and your bottom line. Based on decades of experience serving the pharma industry, Alfa Laval has a complete portfolio of heat exchangers designed to meet today's demands.
Alfa Laval pumps for pharmaceutical industry
Watch video to get an introduction to Alfa Laval's portfolio of centrifugal pumps and rotary lobe pumps for the pharmaceutical industry.
New possibilities with a compact condenser
Alfa Laval Compabloc features an innovative design that can boost process economy in just one-fifth of the space.
Alfa Laval Tri-clover tubes and fittings
Did you know 90% of product contact surfaces in a typical pharmaceutical system comprise of tubes and fittings? Learn how our tubes and fittings can provide maximum hygiene in this video.
Thoughts on the GMPs (

Good manufacturing practices)

What are our thoughts around performance, documentation and hygiene in the biotech and pharmaceutical industry? Watch video to learn more.
Alfa Laval's Pharma Academy
- Mixing in bioreactions
The first premium separation solution for single-use biopharma processing
Meet Alfa Laval CultureOne: efficient, proven clarification with gentle handling of shear-sensitive biological material, increased yield and improved protein recovery. Get ready to discover new possibilities for small-batch production with unparalleled performance.
360° Service Portfolio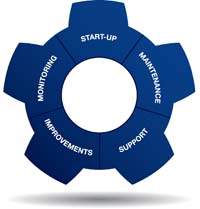 Alfa Laval hygienic equipment is backed by the Alfa Laval 360° Service Portfolio to extend performance. Contact us